Showcase Your Work with an Online Resume Portfolio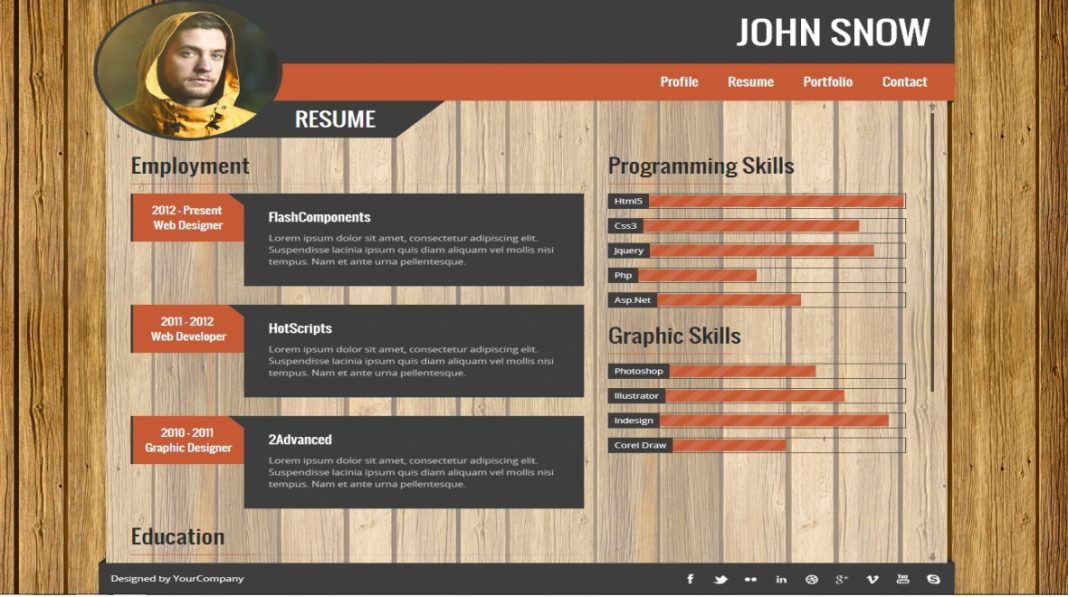 An online resume portfolio is a great way to showcase your work and skills to potential employers. It's a more visually appealing and engaging way to present your experience than a traditional resume, and it allows you to share more details about your projects and accomplishments.
Here are six reasons why you should create an online resume portfolio:
It's a great way to show off your work. A resume is a list of your qualifications, but a portfolio is a collection of your work. This means you can provide more details about your projects, including the technologies you used, the challenges you faced, and the results you achieved.
It's more engaging than a resume. A resume is a one-dimensional document that's typically scanned by employers. A portfolio, on the other hand, is a more interactive experience that allows employers to explore your work in more detail. This can help you stand out from the competition and make a stronger impression on potential employers.
It gives you more control over your presentation. With a resume, you're limited to the space on the page. With a portfolio, you can choose how to present your work, including the layout, the images, and the text. This gives you the opportunity to create a more visually appealing and engaging experience for potential employers.
It's a great way to show your personality. A resume is a relatively impersonal document. A portfolio, on the other hand, can give you the opportunity to share more about your personality and your interests. This can help you connect with potential employers on a more personal level.
It can help you land a job. A well-designed and well-maintained portfolio can help you land a job by demonstrating your skills, experience, and personality. It can also help you stand out from the competition and get noticed by potential employers.
It's a valuable marketing tool. A portfolio can be a valuable marketing tool that you can use to promote yourself and your work. You can share your portfolio on your website, social media, and job boards. This can help you reach a wider audience and attract more potential employers.
Make Your Portfolio Stand Out
1 Choose the right platform 2 Select your Work samples 3 Organize your Work samples 4 Optimize your Work samples 5 Update your Work samples 6 Share your Work samples 7 HeresAn online portfolio can help you Reach a wider audience and increase your visibility Showcase your Work in a dynamic and interactive way Highlight your unique style and personality Establish your credibility and professionalism Communicate your value proposition and goals Connect with potential clients employers or collaborators1 Information About Yourself 2 Include a Professional Photo 3 Examples of Your Work 4 Testimonials from Happy Customers How to Plan Your Portfolio Website Before You Start Building It 1 Determine What You Want to be Known For 2 Decide What to Include 3 Write Engaging Descriptions and Excerpts 4
Enhance Entries With Visuals1 Craft a Strong Personal Brand Statement A personal brand statement or a strong bio is a great way to introduce yourself build credibility and make yourself stand out from the rest of the competition Use it to show off your unique voice and personality and let prospective clients or employers know what you have to offerWhat is a Work portfolio Also called a quotcareer portfolioquot quotjob portfolioquot or quotprofessional portfolioquot a Work portfolio is a way to display a comprehensive collection of your best Work to potential employersThe power of portfolios Portfolios are a visual body of Work that represents the job searchers personal aesthetic how they apply that to client Work and how they adopt and adapt their Work to different industries defines
Kristina Cappuccilli career coach and creative recruiterPublish and promote 01 Gather inspiration Creating a portfolio begins with some visual research and checking out the best portfolio website builders Whichever field youre in looking around at other online portfolio websites will provide you with plenty of inspiration and generate some initial ideasOpen Adobe Express Launch Adobe Express from your browser and search portfolio to begin your project Take some time to handpick your best portfolio pieces and choose ones that fit the industry youre applying to Then upload it to Adobe Express Choose a free online portfolio template
Once you've created an online resume portfolio, it's important to make sure it stands out from the competition. Here are a few tips:
Focus on quality over quantity. It's better to have a few high-quality projects in your portfolio than a long list of mediocre projects. When choosing which projects to include, focus on the ones that are most relevant to your target audience and that showcase your skills and experience.
Keep your portfolio organized and easy to navigate. Potential employers will only have a few minutes to look at your portfolio, so it's important to make it easy for them to find what they're looking for. Use clear headings and subheadings, and make sure your projects are organized in a logical way.
Use high-quality images and videos. The images and videos in your portfolio should be high-quality and relevant to your work. This will help potential employers get a better sense of your skills and experience.
Write clear and concise descriptions of your projects. Your descriptions should be clear and concise, and they should highlight the key skills and accomplishments you demonstrated in each project.
Use keywords in your descriptions. When writing your descriptions, be sure to include relevant keywords that potential employers will be searching for. This will help your portfolio show up in search results and make it more likely that potential employers will find it.
Promote your portfolio. Once you've created your portfolio, it's important to promote it so that potential employers can find it. Share your portfolio on your website, social media, and job boards. You can also submit your portfolio to online portfolio directories.