CV yang Mencuri Perhatian: Trik dan Strategi untuk Menyusun Curriculum Vitae yang Mengesankan ===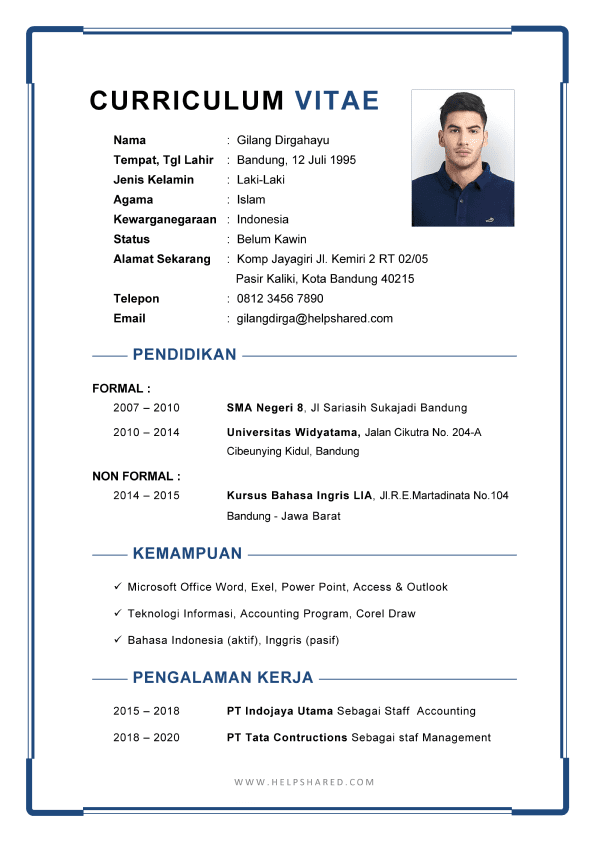 In today's highly competitive job market, having an impressive curriculum vitae (CV) can be the key to catching the attention of potential employers. A well-crafted CV not only showcases your skills and qualifications but also reflects your professional personality. To create a standout CV that steals the spotlight, you need to incorporate tricks and strategies that make you stand out from the crowd. In this article, we will unveil the secrets behind crafting a compelling CV that is sure to impress.
Creating an Impressive CV: Tricks and Strategies to Catch Attention
Tailor your CV to the job: One of the most important tricks to catch attention is to tailor your CV to the specific job you are applying for. Study the job requirements and highlight the skills and experiences that align with the role. This shows the employer that you have taken the time to understand their needs and are a perfect fit for the position.

Use a professional format: A visually appealing and well-organized CV is crucial in grabbing attention. Use a clean and easy-to-read format, with clear headings and bullet points. Incorporate a professional font and ensure consistency throughout. Remember, a cluttered CV can be off-putting, so keep it concise and to the point.

Highlight your achievements: Instead of simply listing your responsibilities, focus on showcasing your achievements. Quantify your accomplishments whenever possible by using numbers, percentages, or statistics. This helps employers understand the impact you had in previous roles and allows them to envision your potential contributions to their company.

Include a strong personal statement: Start your CV with a compelling personal statement that summarizes your career goals and highlights your unique qualities. This is your opportunity to make a memorable first impression and capture the reader's attention right from the beginning.
Crafting a Standout Curriculum Vitae: Unveiling the Secrets
Showcase relevant skills: In a competitive job market, it's crucial to highlight the skills that are relevant to the position you are applying for. Consider the job requirements and emphasize the skills that make you a strong candidate. This could include technical skills, leadership abilities, or soft skills such as communication and problem-solving.

Include testimonials or references: To add credibility to your CV, consider including testimonials or references from previous employers or colleagues. Positive feedback from others can validate your skills and qualifications, making you a more attractive candidate.

Demonstrate continuous learning: Employers value candidates who show a willingness to learn and grow. Highlight any additional education or certifications you have obtained that are relevant to the job. This demonstrates your commitment to staying updated in your field and your enthusiasm for professional development.

Proofread and edit: Lastly, before finalizing your CV, make sure to thoroughly proofread and edit it. Spelling mistakes or grammatical errors can be detrimental to your chances of getting noticed. Take the time to review your CV multiple times and ask someone else to proofread it as well, ensuring it is error-free and polished.
Stealing the Spotlight: Mastering the Art of Compelling CVs
Crafting an impressive CV is an art that requires careful consideration and attention to detail. By tailoring your CV to the job, using a professional format, highlighting achievements, and including a strong personal statement, you can catch the attention of potential employers. Additionally, by showcasing relevant skills, including testimonials or references, demonstrating continuous learning, and proofreading thoroughly, you can further enhance the impact of your CV.
Remember, a well-crafted CV is not only a reflection of your qualifications but also an opportunity to showcase your unique qualities and stand out from the competition. With these tricks and strategies, you are well on your way to creating a compelling curriculum vitae that is sure to steal the spotlight and impress employers in your job search.
1 Lampirkan Identitas Diri Dalam CV Tips membuat CV yang pertama adalah melampirkan data diri yang berupa nama diri tempat tanggal lahir serta pendidikan terakhir yang sudah ditempuh Dalam penulisan identitas tidak dianjurkan untuk menyematkan pendidikan dari jenjang awal yaitu TK SD SMP dan SMA Dalam beberapa alasan hal tersebut Dari situ tampak jelas kalau pengguna CV Maker terbilang banyak jumlahnya 4 Resume Genius Berikutnya adalah Resume Genius sebuah website yang membantu kamu membuat curriculum vitae dalam waktu 15 menit Resume Genius membagibagi format curriculum vitae sesuai dengan kategori pekerjaan yang kamu jalaniBerikut 7 tips membuat CV terlihat menarik di mata HRD dikutip dari Top Universities Baca juga Agar Dilirik Perusahaan Hindari 5 Kesalahan Ini di CV 1 Mulai dengan
kekuatan atau kelebihan Awali CV dengan ringkasan terkait kemampuan dan prestasi yang Anda miliki Dua hal ini jika dituliskan di bagian permulaan CV dapat menarik perhatian 2 Deskripsi Diri Satu paragraf yang berisi 35 kalimat tentang saya dalam CV biasanya berada di bawah data diri Saat menuliskan deskripsi diri pada CV jangan terlalu panjang pilihlah kemampuanmu yang dapat membuat CV kamu stand out dan menarik perhatian rektuter untuk terus membaca CV mu SingkatJadi CV alias Curriculum Vitae adalah sebuah dokumen yang berisi daftar riwayat hidup kamu Daftar riwayat hidup yang termasuk di dalam CV antara lain adalah riwayat pendidikan pengalaman profesional prestasi dan juga keterampilanketerampilan yang kamu miliki CV sendiri memiliki berbagai jenis yang dibedakan berdasarkan tujuan
pembuatannyaNah saya akan berbagi tips bagaimana membuat Curriculum Vitae CV yang layak jual dan menarik bagi perusahaan yang akan merekrut karyawan Dalam membuat Curriculum Vitae dibutuhkan tips dan trik agar menarik bagi perekrut pekerja Foto olehSora Shimazaki dari httpswwwpexelscom 1 Masukkan pengalaman saat mengambil matakuliah praktikumCara membuat CV lamaran kerja Secara umum CV berisikan nama tempat tanggal lahir riwayat pendidikan pengalaman kerja prestasi dan keterampilanketerampilan yang dikuasai Namun ada beberapa hal yang harus diperhatikan ketika ingin membuat CV lamaran kerja 1 Buat deskripsi diri secara singkat dan menarikCari Tahu Informasi Tentang Perusahaan yang Kamu Lamar 2 Mencari Contoh CV Daftar Riwayat Hidup Yang Terbaik 3 Mencari Contoh CV Desain Yang Terbaik Cara
Membuat CV yang Baik dan Benar 1 Memasukkan Identitas Diri 2
In conclusion, a compelling CV is essential for catching the attention of potential employers. By incorporating the tricks and strategies outlined in this article, you can create a standout curriculum vitae that truly impresses. Whether it's tailoring your CV to the job, highlighting achievements, or showcasing relevant skills, each aspect plays a crucial role in making your CV stand out from the rest. Remember to continuously update and refine your CV to ensure it remains impressive and up-to-date. So go ahead, utilize these secrets, and master the art of crafting a compelling CV that steals the spotlight.